They included many of the same elements that we saw while we were there during the Outpouring: Students reading Scripture, testimonies, invitations to Salvation, and a commissioning to share what the Lord is doing! SO POWERFUL! Between Facebook and YouTube about 414,000 people joined the 1,500 in Hughes Auditorium and those in at least two campus chapels who were watching the live-stream.
Pray millions eventually see this and that many souls are saved and many are commissioned for lives of ministry, no matter their career!
In case you haven't experienced it yet: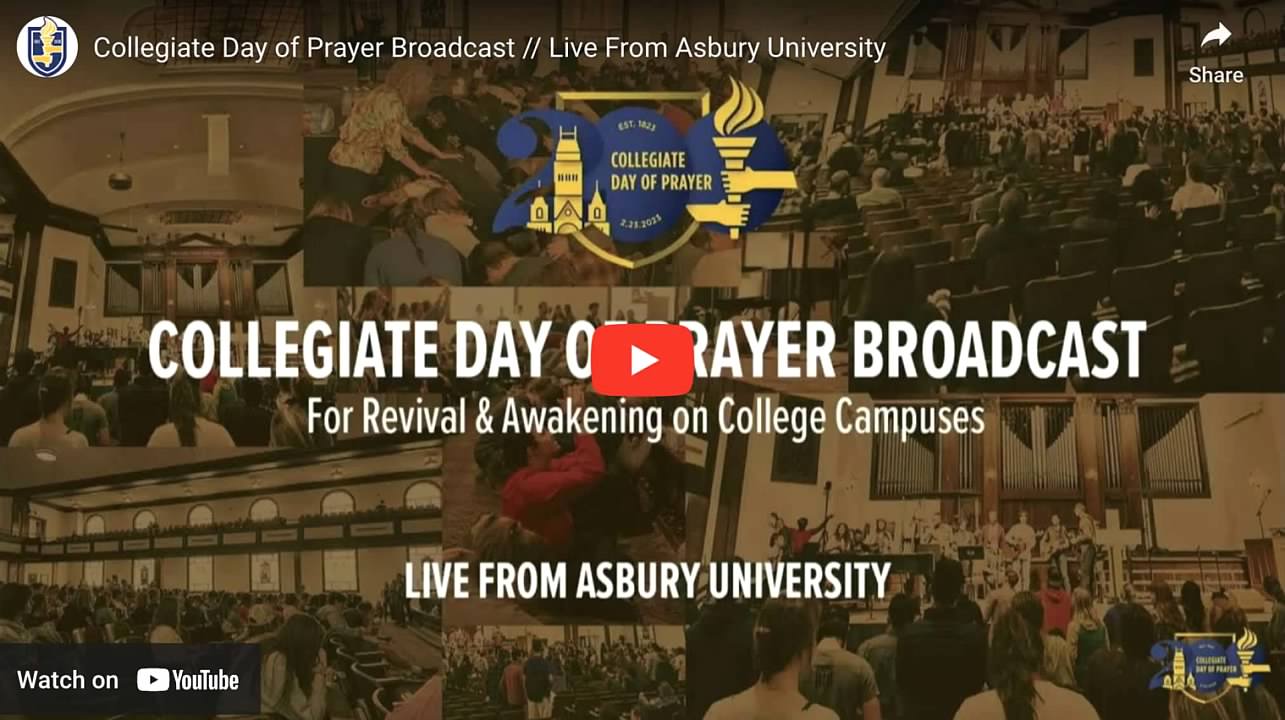 If you don't have 3.5 hours to experience it now (we're already planning to watch it again with as many friends as we can pack into our apartment), here's a brief documentary (8m, 20s) that will give you a sampling: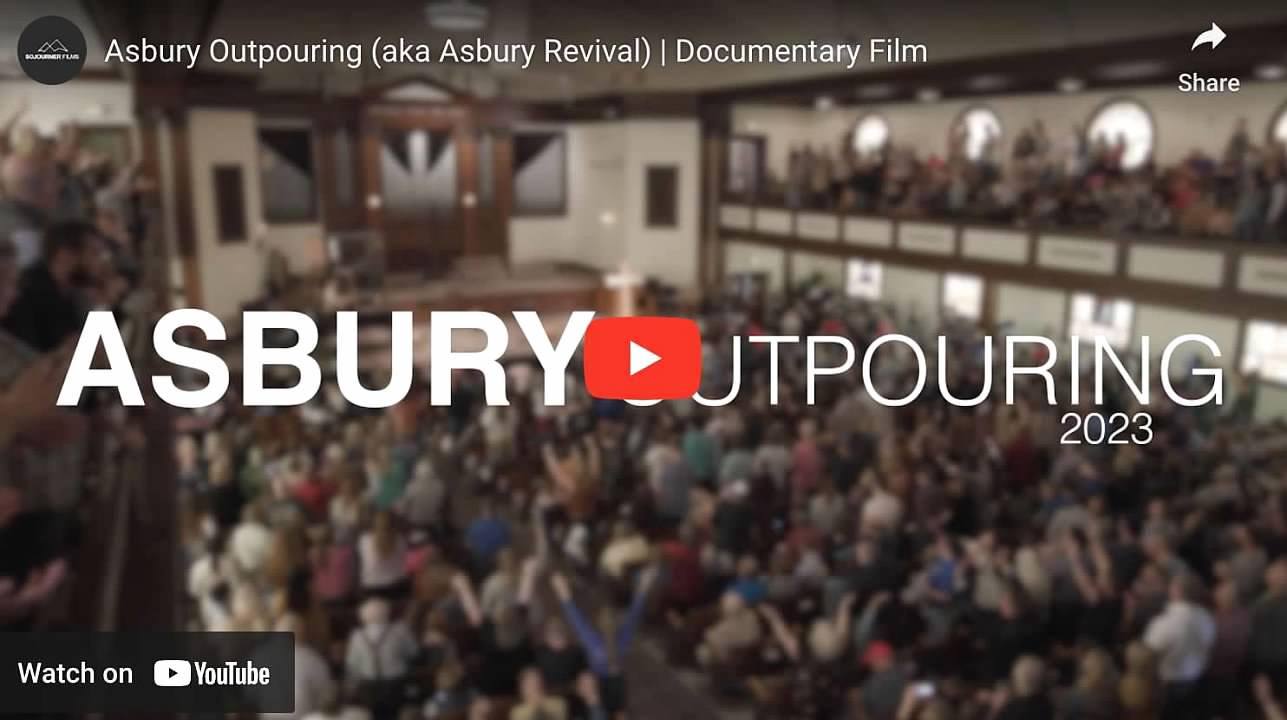 It includes interviews with Asbury students Zeke Atha and Charity Johnson, who we had on
Headline Prayer Live on February 14
. That kicked off daily
Live from Asbury
updates for
Intercessors for America
. Joyce and I got to do two of those (
February 15
and
February 16
) before IFA board member Jeremy Story took over. He was one of the founders of the modern Collegiate Day of Prayer (February 23 was the 200th anniversary of the original founding). You can see all of the daily Asbury Outpouring updates at
www.IFApray.org/watch
.
The update for February 16 was IFA's most watched Facebook livestream. I point that out not because Joyce and I happened to be on but because it shows that our intercessors were tapping into this answer to our decades of prayers, and they wanted to see what was happening on Asbury's campus. I wanted to repost it, because we filmed some of it near a statue of Francis Asbury riding his horse away from campus, commissioned to bring the Good News out across the land: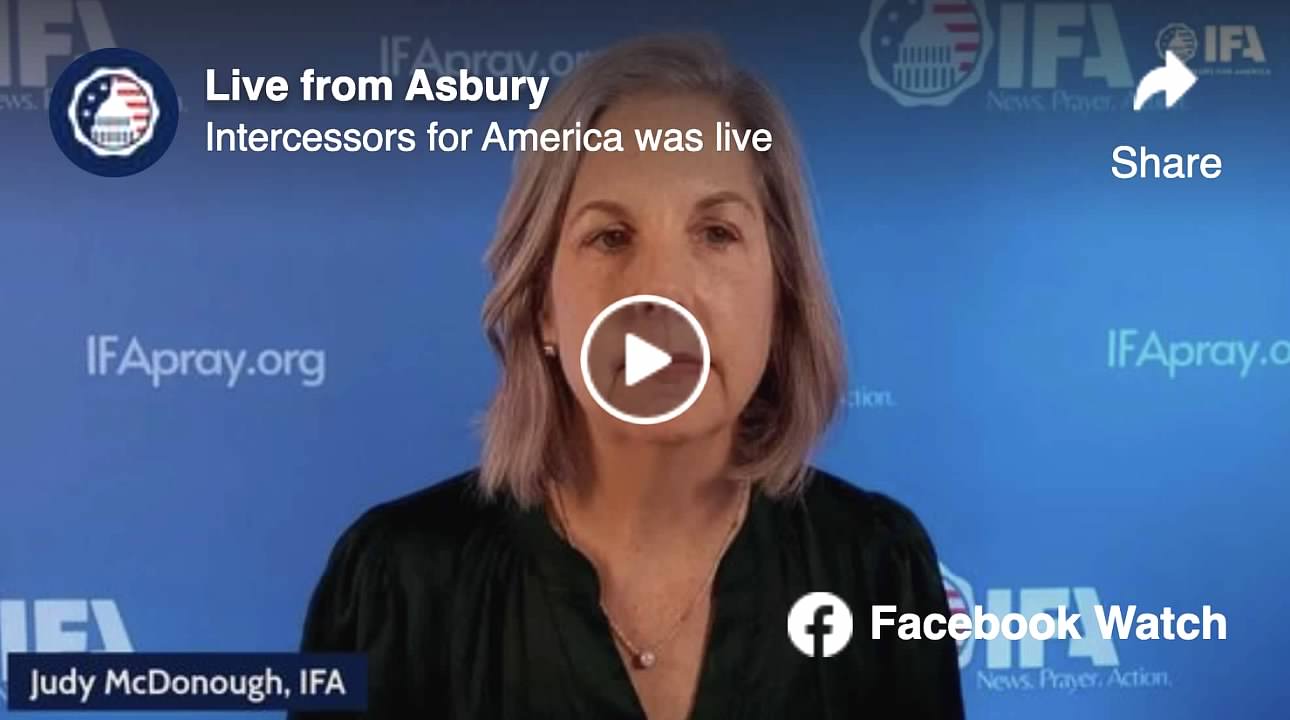 If you've read this far, consider yourself commissioned! It may be challenging to lead into the Gospel by talking to someone about how they've sinned and fallen short of the glory of God, but we've found it very easy to strike up conversations by telling people there was a chapel service that lasted for 374 hours because no one wanted to leave the presence of the Living God. Let's pray many desire to know more:
www.RichDrama.com/MyPassion
.
I released "Pentecost: Beyond the Imagination," a scene from my one-man play, The Acts,
at
www.RichDrama.com/Pentecost
.